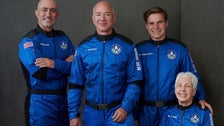 It's liftoff for Jeff Bezos and Blue Origin, the billionaire Amazon founder's space travel company that's carrying the oldest, the youngest and the richest humans to have ever flown in space.
Blue Origin's fully automated New Shepard rocket blasted off Tuesday from West Texas carrying Bezos, the world's richest person; his brother Mark Bezos; aerospace pioneer Wally Funk, 82; and Oliver Daemen, an 18-year-old from the Netherlands.
The launch marked the 52nd anniversary of the Apollo 11 moon landing. It comes just days after billionaire businessman Richard Branson on July 11 flew to the edge of space, an altitude of around 50 miles, before returning to earth. New Shepard aims to hit an altitude of roughly 66 miles.
Daemen is Blue Origin's first paying customer. Funk is finally getting her trip six decades after training with 12 other female pilots, known as Mercury 13, for such a ride in the early 1960s. Funk takes the title for oldest person to fly to space from the late astronaut John Glenn, who flew to space for the last time at the age of 77.
Tuesday's launch is the first by Blue Origin to feature people on board. The company has been testing its rocket since 2012 and says it has had 15 successful consecutive launches, including three successful escape tests.
This is a developing story. Please check back for updates.